You know that old saying, "An apple a day keeps the doctor away"? Well, what about when the entire apple tree falls on your neighbor's property?
So, who's liable for the fallen tree?
Like most insurance-related questions, this depends on a few things.
Why did the tree fall down?
Was it Natural Causes or Negligence?
Natural Causes are things like storms with high winds, tornadoes, hurricanes, etc.
Negligence comes into play if there's documented evidence that a property owner has not cared for a tree, pruned, or ignored pest or disease-related damage.
How do I know whose tree it is?
If you're like most homeowners, your property is probably pretty close to your neighbors, so figuring out who owns the landscaping might not be completely clear.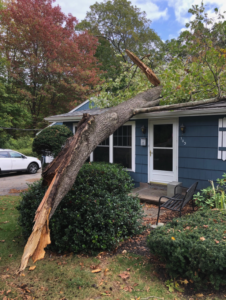 This matters because the boundaries of your property define what is and isn't yours. Any tree trunk or roots that grow within those lines, be it a small sapling or an old cherry blossom, is part of your property and, therefore, your responsibility.
If the roots or trunk are inside your neighbor's property lines, the tree is their responsibility.
Will my insurance cover fallen trees or limbs?
The insurance company will determine whether or not your homeowner's policy covers the costs of a fallen tree, but some factors could affect their decision:
Natural Causes: If the tree or branches fell down because of a storm or other natural disaster, then most likely, your insurance company will cover the removal and damages. If the tree fell on shared property, your insurance will probably cover 50%, and your neighbor's insurance picks up the other half.
Negligence: If the tree fell because you ignored signs of disease or lack of maintenance, your insurance will probably not cover removal, clean-up, or related repairs.
These are general guidelines, but they apply to your and your neighbor's trees.
What if a tree on public land falls on my property?
If you have land next to public property, like a park or forest area that may be affected by storm damage and subsequent tree falls, In these situations, you'll probably need to file through your insurance and let them handle the claim.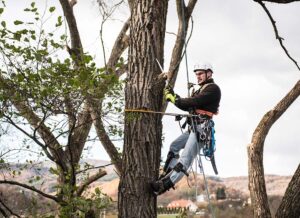 Is it okay to remove a fallen tree by myself?
Tree removal is a risky task to undertake alone, and you will be held liable if the tree falls on someone or something. Tree removal requires in-depth training, specialized equipment, as well professional insurance or bonds because of how complex it can become!
Trees falling on property can cause all sorts of headaches. Thankfully, most of these headaches are preventable with the right insurance policy. So, if you're worried about a tree falling on your home or business, connect with us. We'll help you find the best policy to protect you from Mother Nature and her fury.